When was the last time you unsubscribed from an email list?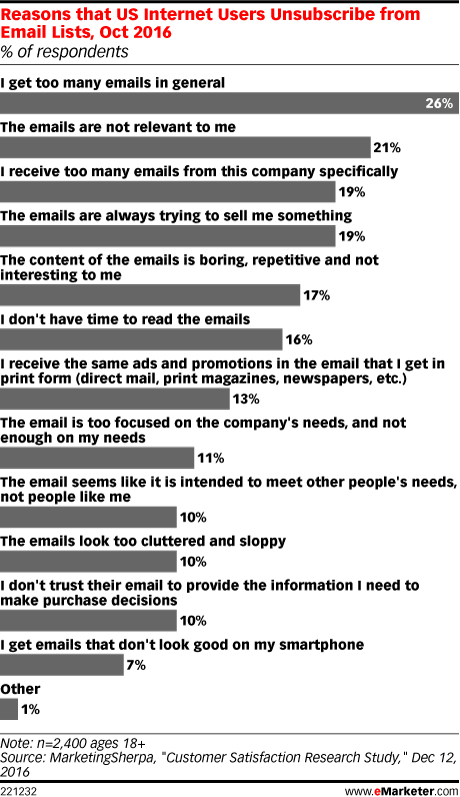 For me, it was this morning. After I read
this article
, I opened up my email box and clicked "UNSUBSCRIBE" in the latest email from Groupon.
I can no longer bear its email frequency—at least three times a day! I've been suffering from Groupon's email fatigue for months, although the messages were sometimes relevant to me, I could not put up with it anymore.
I am definitely not alone. In
Marketing Sherpa
's Consumer Satisfaction Research Study, one in four US adults said they unsubscribed from email lists because they received too many emails. 19% said too frequent emails from a specific company would spur them to quit. Since "too many," "frequent" is subjective and vague, I couldn't help but wonder: for email marketing, how often is too often?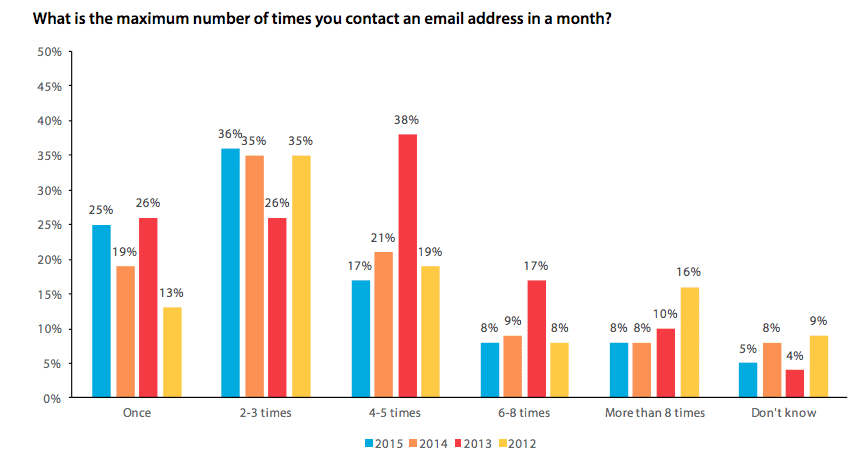 If we take a look at the
DMA's National Email Client Report 2016
, from 2012 to 2015, more than 50% companies sent emails to their contacts
less than 3 times per month
. In 2015, 25% of respondents were sending just one email per month to each contact.
From the consumer's perspective, a survey conducted by Marketing Sherpa in 2015 found 61% of the 2,057 respondents said they would like to receive promotional emails "at least weekly." In August 2016, another survey from
Mapp Digital
found that 40% of US internet users preferred receiving marketing emails
once a week
.
The statistics may shed some light on the optimal email frequency. Once a week could be a choice, which at least won't push customers away. But certainly, for most companies daily email is just too much, let alone more than that!
In fact, to define the best email frequency, there is no one-size-fits-all solution. It really depends. Still, there are some useful tactics:

1) Test options. Define a random control group and use it to test frequencies of 1,2,3,4,5, ...times per month. Measure this
group's
unsubscribe rates against a default group.
2) Customize frequency for different segments. Decrease the frequency for those inactive users with lower open or click rates.
3) Let customers decide. When people opt-in, give them a chance to decide on the frequency they prefer. Moreover, always make the process easy to change it.